Here in NC it's not often that we get snow falling, even less common to get big old snow flakes that stick and accumulate. As soon as I knew we had a snowstorm coming I got working on ideas for fun shoots with my own little boys.  I knew I had to get pictures of the boys in the snow.  For a child this is a downfall for having a mother who is a Holly Springs child photographer ;).  I started off by turning my car around in my driveway, knowing if I was shooting later on in the evening I would be able to use the cars headlights for lighting ;).
My boys all got excited at the prospect of snow and when it started out came all the snow clothes and boots and of course there was lots of play time involved. My youngest little one was only without a coat and gloves for less than a couple of minutes when I took his pictures. (Yes us photographers get creative when it snows) He was very happy and no harm was done for the short time without a coat.
My oldest son was off playing with his friends, however I knew the shoot I had in mind for him and it would be much later in the evening! After my two little's went to sleep I took Jack outside, I had the Polar Express theme in mind. We got a crate and clad in his pj's, coat, and boots he sat under a streetlight which was my main source of lighting for this picture.  It was still snowing and I had bags taped all over my camera and lens to ensure the safety of my equipment (have to make sure that stays in good working order).
I am so happy with the result, the snow brings about peacefulness and a calm quiet that I absolutely love and find so magical. I truly love those rare occasions that we get to enjoy "snow storms" …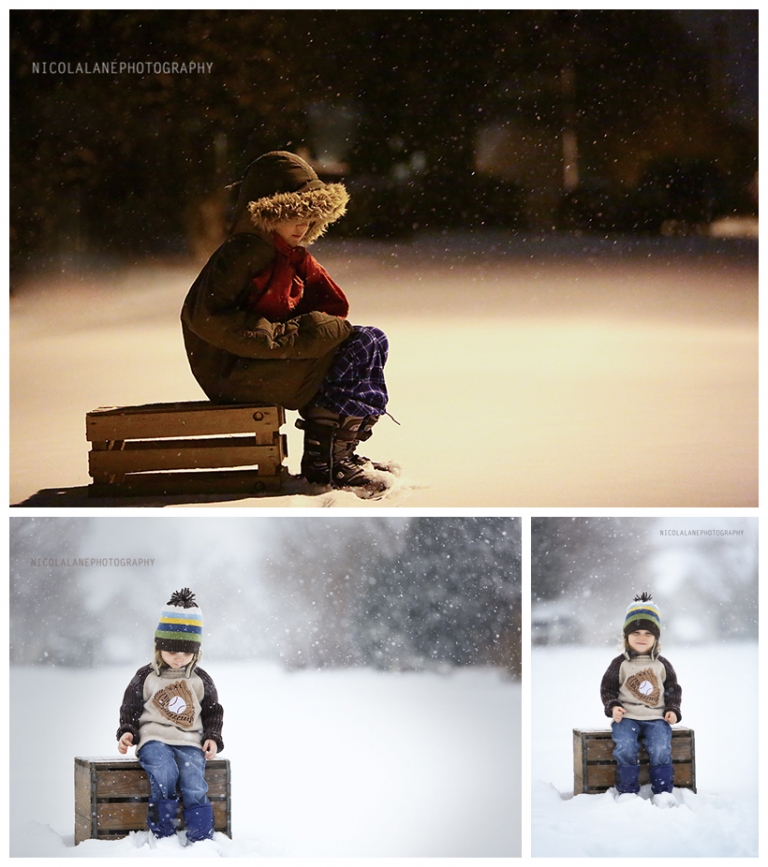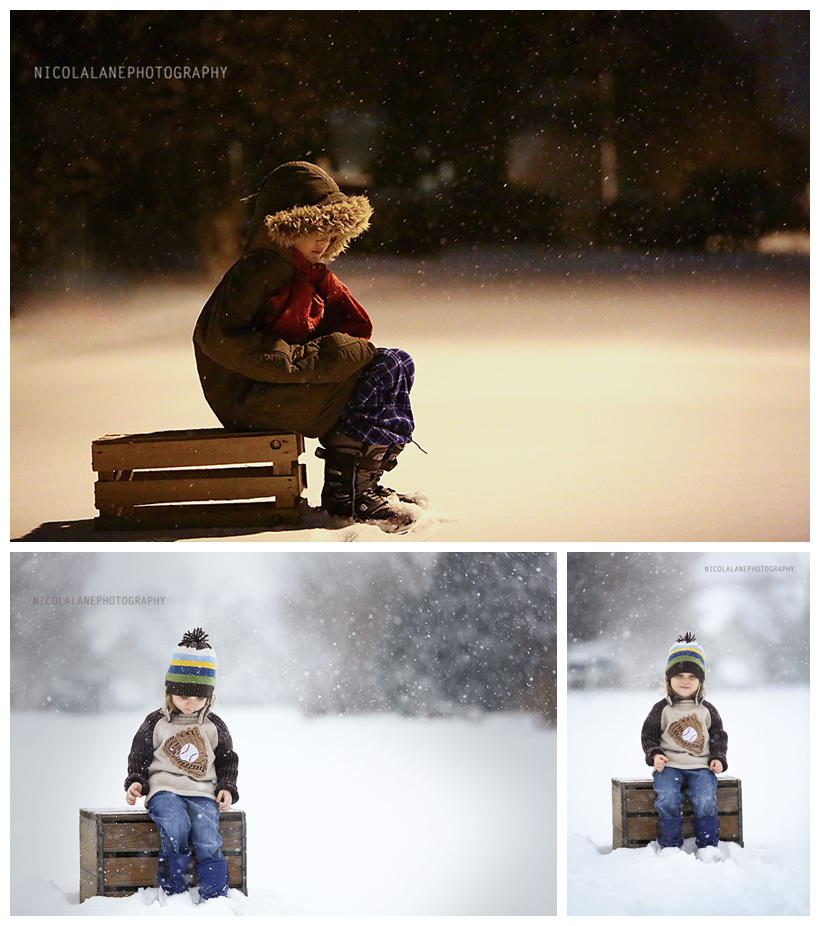 Nicola of Nicola Lane Photography is a Raleigh child photographer located in Raleigh, North Carolina. At Nicola Lane you will find fine art newborn, maternity, child, family and baby photography in Raleigh, Durham, Cary and the surrounding areas. 
Nicola Lane Photography specializes in newborn babies. Although these brand new little ones are one of my favorite to photograph I also love maternity shoots,child portraits, and family photography. Contact me today to get your session on my schedule.  Its never too early to book for a newborn shoot and everyone deserves to have a lovely family picture to hang in their home, office and to pass along to future generations. To see more of my work visit Nicola Lane Photography or Find me on facebook "Nicola Lane Photography".