Today is a great day to be a Raleigh child photographer. I have to share that I am very excited today!!I have always enjoyed child photography, children's fine art, and just capturing stunning portraits of children. Of course to shoot outdoors on location it is a little more complicated. You definitely have to have the right location, the right light and the right image in your mind before you even set out to take pictures.
I personally like to talk to parents, see their child's interests and make magic from that. I like to help with styling as I believe clothing is so important when you're working with seasons and outdoor landscapes. You definitely need to be honest with parents about what you are thinking but also make sure the child will be comfortable in the outfit choice. I often pick up coats, dresses, boots, cardigans, hats and anything else unique that I know I could one day use in a shoot.
When you have specialized in one area for so long, the branching out to a different area can be a little difficult, finding a style outdoors that you feel represents you and your work and finding the colors that you believe are best for you to work with. Every client is different as is every child. I want my client to have that beautiful image, the one they want to put on a canvas, the one their friends will look at in awe. Yes I want smiles too; however sometimes some of my favorite images and to the surprise of my clients their favorite images are the ones that capture the innocence, the soul, the intrigue. I want the picture that is different and looks like it belongs in a magazine!
Today I won another award for my child portraits, and this just goes to show me that if I can be recognized for children as I am for newborns it is fair to say I can specialize in both – I have won awards for both. I just wanted to share this exciting information, for me it's a giant step in the photography world and one I am so happy to take. I have so many ideas in my mind and with spring just around the corner the possibilities are endless.  Here is the image that won the award, yes, she is very beautiful but then all children are.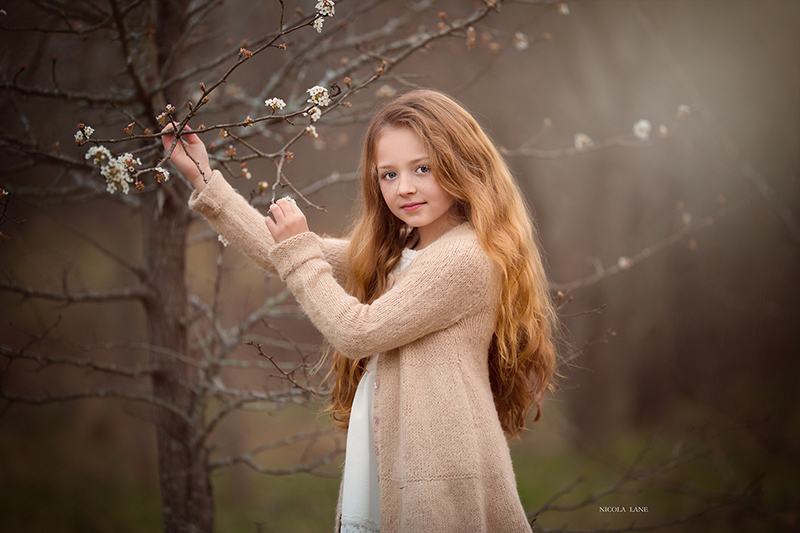 Nicola of Nicola Lane Photography is a Raleigh child photographer located in Raleigh, North Carolina. At Nicola Lane you will find fine art newborn, maternity, child, family and baby photography in Raleigh, Durham, Cary and the surrounding areas.
Nicola Lane Photography specializes in newborn babies. Although these brand new little ones are one of my favorite to photograph I also love maternity shoots,child portraits, and family photography. Contact me today to get your session on my schedule.  Its never too early to book for a newborn shoot and everyone deserves to have a lovely family picture to hang in their home, office and to pass along to future generations. To see more of my work visit Nicola Lane Photography or Find me on facebook "Nicola Lane Photography".