Today I wanted to experiment as a Raleigh Child Photographer, providing you with a before and after image of my own son.
My studio is here in Holly Springs, it is an addition to my home. So often I like to do outdoor photography sessions in the Holly Springs area, especially when it is my own child I am photographing. I have been eyeballing this little path for so long now, in fact it runs right on the outside of my neighborhood and I knew I could make magic happen there at the right time of day with the right lens and the right look.
So if you happen to follow my blog you would know that I recently bought a new lens! This lens is a beast, it is perfect in every single way and I just can  not use it enough. This causes my own children stress, because they become my subjects! Well occasionally stress, for the most part we have a great time! I love that I can see the light, know the light and grab exactly what I want outfit wise, throw it on one of the boys and take a two minute drive to somewhere I feel I can really work with.
I found this little body warmer jacket at a thrift store, I knew when I saw it I had to get it, the look, the color, it was perfect for a shoot. I am very particular with clothing and light and making sure they work together to achieve the look I want to get. I always have a picture in my mind of exactly what I want my images to look like. For the most part I stick to it but sometimes I get some other ideas and try those too. The trick is to always make sure you have that picture in your mind of what your finished product will look like. If you are anything like me you want to get it right straight out of camera (SOOC) a term we use as photographers to somewhat explain that we know the settings needed so we don't really need to adjust lighting and white balance in Photoshop.  After years of learning Photoshop you realize that as amazing as it is the real skill comes from your heart, your mind and your vision. We can all do things in Photoshop, but a true photographer works with tones and knows light and can use that light to optimize the image and  bring the subjects to life.
We all have certain tastes and "styles" I love my style… I love darker coloring, I love depth, I love when a photograph makes you stop and look around the entire image looking for the story. Photoshop can be amazing to help add in some magic, but a true photograph should be shot as right as possible SOOC.  Think of the days before digital photography, if you didn't get it right and you had your pictures developed you would have to toss out ones that were over exposed or too dark. The film cameras really make a good photographer stand out; they have to know light in order to not waste prints!
With all that said I do not shoot with a film camera and I do use Photoshop, I do try as hard as I can to get it right in the camera and so today I will show you a little before and after of my recent shoot with my own child, William.
I wanted to post the straight out of camera first, to show how closely I got the image to what I was looking for in my final image. The sun had literally just set, I don't mind compromising a little noise in the picture to ensure the lighting is what I want and need. This is exactly how this image came off my camera, completely untouched.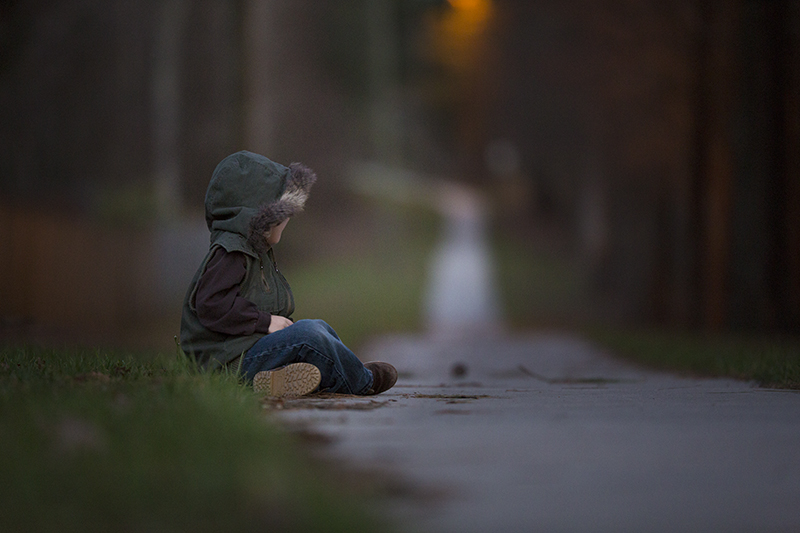 Now this next image is the final product of Photoshop – I bet you go back and forth a few times to see the very minor difference, some may not even see the difference. The difference is minor, I warmed it up a touch and added in a few red tones, as much as red is not my favorite color in real life I love a red tone in my pictures. This is very subtle, even posting this I had to make sure which image was the SOOC one – This is my taste though, again the dark, colder look this is what I had envisioned for this shoot and it took me no more than 5 minutes to get the shot. I did get some of him smiling and laughing but this is the one I was going for.. not much difference at all 🙂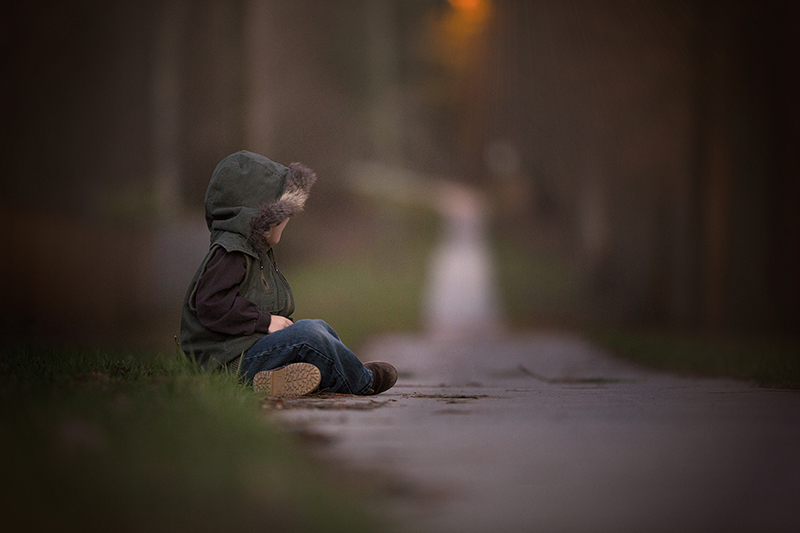 Nicola of Nicola Lane Photography is a Raleigh child photographer located in Raleigh, North Carolina. At Nicola Lane you will find fine art newborn, maternity, child, family and baby photography in Raleigh, Durham, Cary and the surrounding areas. 
Nicola Lane Photography specializes in newborn babies. Although these brand new little ones are one of my favorite to photograph I also love maternity shoots,child portraits, and family photography. Contact me today to get your session on my schedule.  Its never too early to book for a newborn shoot and everyone deserves to have a lovely family picture to hang in their home, office and to pass along to future generations. To see more of my work visit Nicola Lane Photography or Find me on facebook "Nicola Lane Photography".