Being in the Raleigh newborn photography industry, I want to give everyone the ability to have perfect baby photographs. These would be the ones  including those special details. Sometimes people are on a stricter budget, and they shouldn't have to compromise to get great photographs. I believe that photographs at any price should be done properly. The detail collection gives you just that! It is a session that lasts only 30 minutes or so.  I create a full baby image, a close up of babies face and all your newborn detail shots, eyelashes, fingers, toes, lips and nose.  I have always said that just a few beautiful newborn pictures are better than having a whole lot of bad photos.  I think these details are just so important and babies grow so fast and it creeps up on us. Before we know it baby toes become stinky little feet and sweet little hands become sticky little hands covered with dirt (which is still adorable) Those lovely little white spots on your newborn's nose will slowly go away,  you will find their lips don't quite pout the same. These images to me are priceless.
Here is an example of what you would receive.. each individual file and also a collage.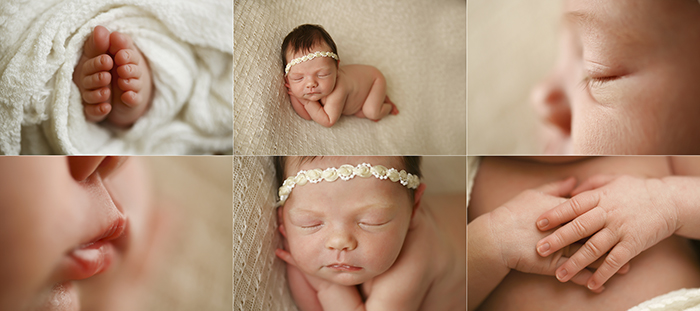 Nicola of Nicola Lane Photography is a Raleigh child photographer located in Raleigh, North Carolina. At Nicola Lane you will find fine art newborn, maternity, child, family and baby photography in Raleigh, Durham, Cary and the surrounding areas.
 Nicola Lane Photography specializes in newborn babies. Although these brand new little ones are one of my favorite to photograph I also love maternity shoots,child portraits, and family photography. Contact me today to get your session on my schedule. 
Its never too early to book for a newborn shoot and everyone deserves to have a lovely family picture to hang in their home, office and to pass along to future generations. To see more of my work visit Nicola Lane Photography or Find me on facebook "Nicola Lane Photography".